Khushiyon kee Diwali 2016 offer from videocon d2h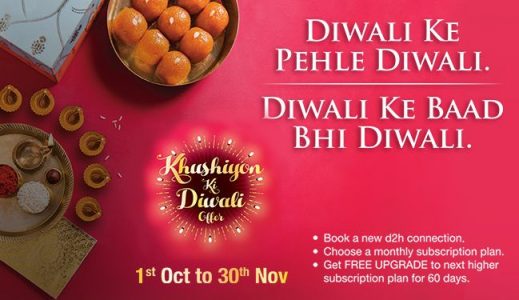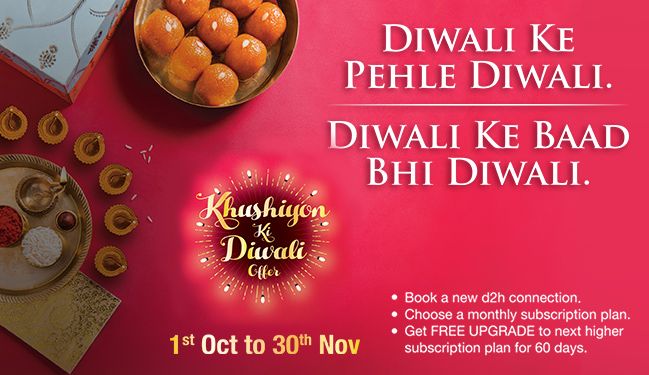 Diwali 2016 offer for Videocon d2h is announced, it's named Khushiyon kee Diwali Offer. Khushiyon kee Diwali promotion from 1st October 2016 to 30th November 2016. existing d2h users can also get offers from d2h fro this deepavali. if you are booking a new d2h connection during this period and avail this offer. existing customers can also get this 2016 deewali offer. book a new d2h connection, HD for Rs. 1820 or SD for Rs. 1620. Choose a monthly subscription plan and Get Free Upgrade to next higher subscription plan for 60 days.
Click here to book a new videocon d2h direct to home connection with diwali 2016 offers
The Existing subscriber of Videocon d2h can also utilize this offer. They can pay Rs. 10 extra on current monthly subscription plan; get upgraded to next higher subscription plan for 60 days. videocon d2h is currently offering more than 570 channels and services. wide range of active services also available in d2h direct to home service. Smart English, Smart Games. The other active services include d2h Hollywood HD, d2h music, d2h spice, d2h cinema are the active services. All these d2h services are available in sd (standard definition) and hd (high definition). d2h is one of the most popular indian direct to home service.
we have updated the channels, transponder list etc of videocon dth service here. we will update more dth offers for this diwali here. you can subscribe to us for more details of indian dth service from here.