save 50 rs on your recharge – dth recharge coupon code march
Now you can save rs 50 rs on your recharge for indian dth recharges. you can use dth recharge coupon code march for saving 50 rs for your online dth recharge. paytm website is offering this 50 rs off on each recharge. it is available for all the indian dth service providers. you need to use a promotional code to get this offer.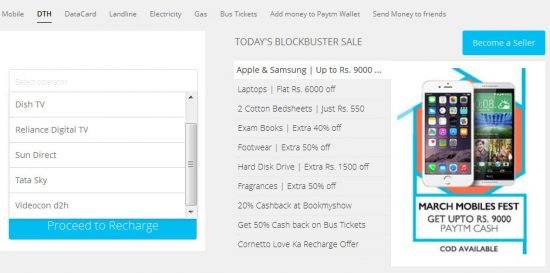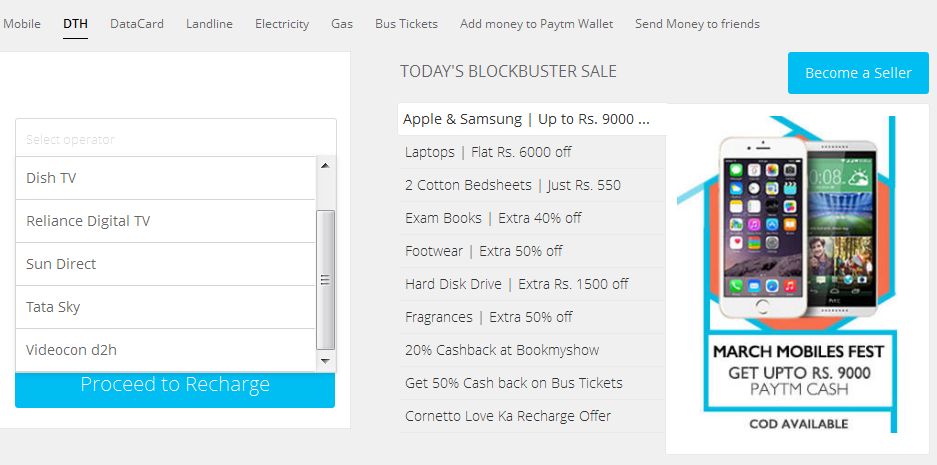 Check the step by step procedure of getting 50 rs discount from online dth recharge website
1, visit the website paytm.com and select the options dth. check the screenshot for the details.
2, select the dth operator, the drop menu will list the options. airtel digital tv, dish tv, videocon d2h, reliance digital tv, sun direct or tata sky. once you select the operator you need to enter the account details. You need to enter the customer id and recharge amount. you need to enter the amount for recharge your dth. you can check the package details, it will show at right side.
redeem online coupon codes
3, after entering the details, click the option proceed to recharge. then it will lead to the next page, there will be a option " enter promo code ". you can enter dth recharge coupon code march here. " WC50 " is the promo code of patytm for march and you will get a discount of 50 r.s. once the system accept the promo code you will get the message " Success. Cashback of Rs 50 will be credited in your account within an hour ".


4, Click the link proceed to pay now, it will lead to the payment gateway. you can choose the payment options and pay the amount. once the payment is done, within some time they credit the 50 rs in your account. you can use this amount to recharge in paytm. you can save 50 rs on your dth online recharge through paytm.