Vu Quantum Pixelight 4K HDR TV – Specifications, Review , Pricing and Availability
Vu Quantum Pixelight 4K HDR TV
Vu Televisions launches the World's Brightest Quantum Pixelight LED TV as it celebrates $100mn in revenue (YTD). After the grand success of its previous Pixelight and PremiumSmart series Televisions, Vu, the California-based luxury television company, today announced the launch of its most luxurious and brightest TV yet, the Vu Quantum Pixelight LED TV. Powered by 1500 nits, the Vu Quantum Pixelight LED TV revolutionalises the TV viewing experience displaying vibrant wide colour gamut picture quality using quantum pixels. The Vu Quantum Pixelight LED TV is a visual treat for its viewers as it showcases a healthier picture that's vivid and natural, without any visual stress to the eyes.
The Vu Quantum Pixelight LED TV promises to transport viewers to another world with its next generation aestheticism, brilliance and functionality. Available in 65 inches at INR 2.6 lakhs and 75 inches at INR 4 lakhs, the Vu Quantum Pixelight LED TV boasts of a picture quality that encompasses the "4 Ultras"- Ultra HD, Ultra Color, Ultra Contrast with Local dimming and Ultra Motion. Matched with its rich surround Dolby audio effect through 55000 sound holes and impeccable industrial metal design, the Vu Quantum Pixelight LED TV offers an unparalleled cinematic experience for its viewers.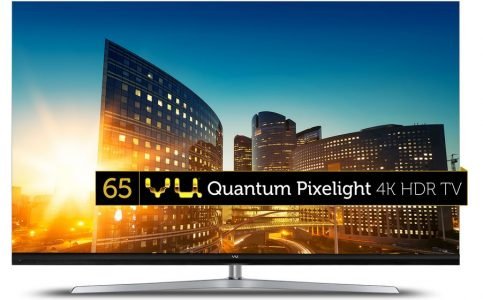 Key Features:
·Pure Metal Industrial Design
·Quantum Pixelight Optical Layer
·1000+ nits peaking brightness
·55000 sound holes to ensure sound is rich & clear
·Premium Smart, a smart TV operation for VU customers
·4K Streaming
·One-Touch Access to Netflix from the remote
·HDR
·Quantum Pixelight LED Focus On Color And Contrast
·Ultra Contrast with Local Dimming
·Ultra HD
Pricing and Availability – The VU Quantum Pixelight LED TV 65″ is available for 2.6 Lakhs and the 75″ is available for 4 Lakhs in India. The Vu Quantum Pixelight LED TV was showcased for the first time last evening at the TEDx Pre event Dinner as it has the TED app available on its PremiumSmart operating system for VOD viewers.